The top health benefits of cleansing and how to do it in a way that leaves you with more energy.
What do you think of when you hear the word "cleanse"? The first time I heard it I thought:
"Am I going to have weird tubes coming out of places?"

"Am I going to have to buy a jumbo pack of toilet paper and stay home?"
I really didn't know what it entailed.
As the holidays approach I know some of us are wondering when we are going to get back into our skinny jeans and trying not to feel guilty, but I want to take it a step further. I am a bit of a science nerd and I want to bring some clarity to what cleansing actually does for your body and explain why it is so beneficial.
If you would prefer to watch the replay of my video you can access it here and leave me some questions or comments. I'd love to know what I can help you with!
The benefits of cleansing, also known by the technical name "nutritionally supported intermittent fast", include weight loss, a reduction in food cravings, maintenance of blood sugar levels, improved insulin sensitivity, detoxification, and overall just letting the body do what it is meant to do.
Weight Loss
As I mentioned before, you might have already given up on your skinny jeans this holiday season, but you don't have to completely lose hope. Some studies show that a nutritionally supported intermittent fast can be equally as effective for weight loss as counting calories. In a study published in the Journal of Diabetes and Metabolic Disorders they saw short term benefits to alternate-day fasting diets when combined with decreased caloric intake. A 2011 study published in the Journal of Obesity found that overweight women who fasted intermittently for six months lost more weight than women who reduced their caloric intake each day.
Food Cravings & Energy
Your body will actually feel better when you treat it right!
Some of the things people say to me when they come to me for help include:
"I'm lacking in motivation."

"I'm dragging myself out of bed every morning."

"I'm busting my chops at the gym, but not getting the results I want."

"I'm getting results and looking better, but I don't FEEL good."

"I've got the death stare happening in the morning like 'Don't freaking come near me until I've at least had my second coffee'."
Well, that's not normal. It's common, but it doesn't have to be normal. You might think that after a day of not eating, you would be more likely to gorge on food when it was re-introduced or that you would be really unproductive because you would feel like you are starving.
That's not the case.
A 2007 study found that when a nutritionally supported intermittent fast becomes a routine, you will consume less food on your non-cleansing days.
I am actually cleansing today and I am still a functioning, normal human! (If you want to see exactly how much energy I have, you can scroll to 3:10 in my video). I often have more energy on a cleanse day!
Insulin Sensitivity
Insulin sensitivity refers to how well the insulin in your body responds to you eating food by transporting the glucose (where your energy comes from) into the appropriate tissues of the body. You want it to be working really well so your body has the energy or fuel it needs to function properly. One of functions that energy is used for is fat burning, which you can imagine could really help you reach your fitness goals if you're wanting to lose weight. A 2005 study by the Journal of Applied Physiology looked at healthy men who fasted for 20 hours every other day for 15 days. It showed that they had improved insulin sensitivity (meaning their insulin was more efficient at delivering the glucose to the tissues in the body) and better control of their blood glucose levels.
Downtime for the Body  
Whenever you are doing any of these programs, they are not actually "making" your body "cleanse" because our body does that all on its own! We actually have filter organs that do this job for us; our kidneys, liver, and colon. Their sole purpose is to clean our body; however, because we are always eating and drinking we often aren't giving the body a chance to do this very important job. What we do with our nutritional cleanse is give the digestive system a small break so it can do what it was designed to do. It has also been proposed that intermittent fasting has anti-aging effects, which in turn prevents age-related diseases.
Detoxification
Lastly, it helps with cellular repair. So when we are exposed to environmental toxins (i.e. herbicides and pesticides sprayed on food or the chemicals that might be in our make-up or skincare products to name a few) your body is really smart and what it wants to do is protect you. It does this by coating those toxins in fat and storing them because it doesn't know how to process the toxins. This fat is often stored around our organs, which is what we call our 'visceral fat'.
Even gorgeous women like Jennifer Aniston, Elle MacPherson, or Gisele Bündchen (fast forward to 5:48 to see which one of these gorgeous women I have a huge girl crush on) who are really slim could still have a high percentage of visceral fat, which is really unhealthy. It's a precursor for health issues such as heart disease, cancer, stroke, dementia, and diabetes. Visceral fat is considered toxic and is capable of provoking inflammatory pathways, which in turn send out signaling molecules that can interfere with the body's normal hormonal functions.
So in short, on a cleanse day - we are allowing our organs to do what they are designed to do: to metabolize fatty tissue and decrease toxic waste within the cell in the process. It really is cellular repair, repairing your cells from the inside out.
Need an air fist bump for sticking around this long to learn about all of this stuff? KAPOW! (Catch it here 6:48)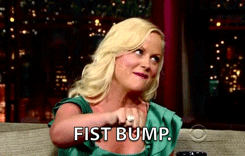 My best advice for you is: if you are lacking in energy or motivation, it's not just about the food you are eating. Trust me, I was doing all of the "right things" from my background in Exercise Physiology and I still suffered the same fate.
Lastly, if you have any questions about cleansing in general, I'd love to hear from you. I am happy to help you whether you are doing my program or not and I read every email!
You can contact me here.
Please reload